At Kone-Ketonen, we take forest management to new dimensions by creating high-quality innovations for the needs of forest professionals and by developing positive outlooks for work and the future. At Kone-Ketonen, we do not look in just one direction, but instead we develop, create, reform and innovate so that workers would have the prerequisites to carry out the highest possible quality of work.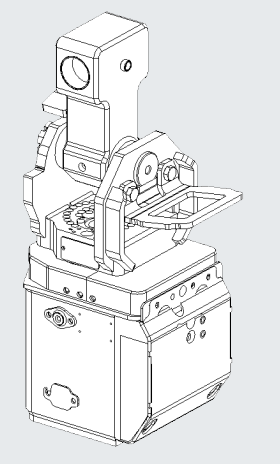 CONTINUOUS 360° PLUS ROTATOR
This is the newest updated in Keto head family. It meant to enhance the efficiency significantly in every day operation.
Kone-Ketonen has filed a patent application för the rotator as it incorporates new and unparalleled features.
Feedback
There are already a number of these unlimitedly rotating Keto­ harvesters in usein Finland, Germany and North-America since last three years. Contractors have given very positive feedback of new innovation. One of them is from entrepreneur Hannu Siukola, Finland, expressing his satisfaction with the new rotator:
"The hose bundle does not interfere with trees. It is faster to rotate the head to the next tree. I will not go back to the old, limited rotators. This is a keeper!"
BENEFITS
The 360° Plus continuous rotator provides significantly more rotational force: up to 1050 Nm at a pressure of 100 bar. In forest thinning, this also increases the efficiency.
The 360° Plus continuous rotator expedites the felling work too, because the tree can be approached from any direction. The felling head can be rotated without limitations in both directions and there is no longer damaging the hoses or trees.
The 360° Plus continuous rotator also facilitates maintenance work, because it is easier to access to the hoses and fittings.
Cost savings are also made by increasing the service interval of the hoses, because the hoses are no longer moving as much and the hoses are shorter.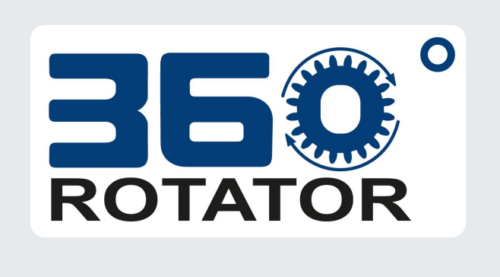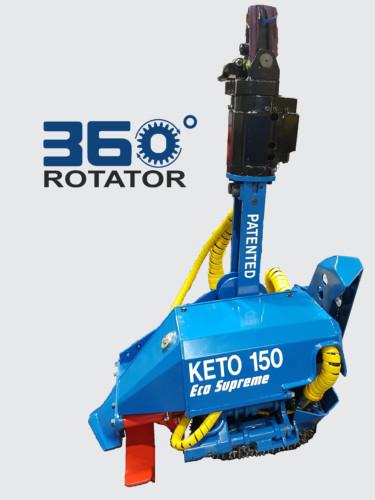 EVERYTHING PASSES THROUGH THE ROTATOR
All hydraulic hoses, electrical cables, stump treatment liquid and urea, are passing through the rotator.
The urea hose has its own isolated channel in the the rotator. Therefore, even in the case of any failure, the urea and hydraulic oil will never get mixed.
HELPING DRIVERS WORK
The 360° Plus continuous rotator revolutionizes the usability of the harvester head.
Trees can be approached from any direction
Dangling hoses cannot be cut or damaged by the saw
Hoses cannot be twisted anymore around the tilt
No more pulled out electrical cable or wires
Increased service life for hoses and fittings
More powerful and precise rotational motion
Rotator for smaller models:
Suitable for
ø45 links & ø45 swing dampers
Rotator Max Torque
1050 Nm(@ 100 Bar)
Rotar Max Static Load
146 kN (15 metric ton)
Rotator for large models:
Rotator Max Torque
1800 Nm(@ 100 Bar)
Rotar Max Static Load
450 kN (46 metric ton)
Desmond Major, Major's Logging Limited, Deer Lake, NL, Canada:
"We have been involved in this Keto's continuous rotator project since day one. We are running them on a bunch of Keto heads, each getting 100h per week, over 4000h per season. Sure, we had some hick-ups in the early stages, but Keto took care of them quickly. Today we have the total of over 30000h on these rotators, and they work very well. No more old hose issues, more rotating power, fool proof electrical swivel, simple and compact unit – there is no way going back to the old setup."