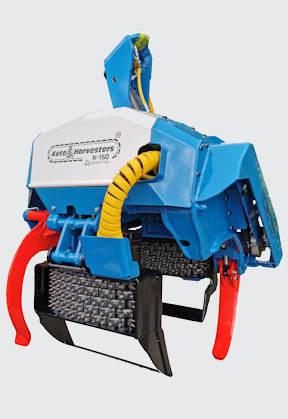 New Keto-150 Karate P Harvester head!
Has been developed as a multifunction harvester head suitable for treating large trees in mountain forests for 14 – 15 ton base machines.
Wide opening grippers (1100mm) integrated on feed tracks for wood bunches.
The traction of the Karate-series is strong thanks to the 5-row track.
Karate-machines can be equipped with a Karate-accumulator system. The system controls hydraulic oil flow and pressure is more accurate according to the needs of the various work stages. The system is helping in low-power chassis machines where Karate-system gives additional power to the most demanding work stages.
Karate has one fixed and three movable knives.
Due to the spacious structure, daily maintenance is easy to perform.
As an option, we offer the latest technology for harvester use. Equipping your Keto-harvester with a 360 ° -rotator ensures efficient and accessible work.
Engine power of base machine
Height in felling position

1116 mm

Height in processing position

2243 mm

Width in open position

1434 mm

Width in closed position

1078 mm

Length in processing position

1419 mm

Depth in felling position

1698 mm

Weight

1002 kg

Felling diameter

550 mm

Delimbing diameter

450 mm
Delimbing knives

4

Maximum working pressure

250 bar

Recommended pump capacity

220 l/min

Saw bar length

25"

Feeder type

Track

Feed force

24 kN

Maximum tree weight

1300 kg

Maximum feed speed

4 m/s

Engine power of base machine

80 kW